Post date:
Fri, 10/20/2017 - 8:27am
Sounding Out is a blog sponsored by the Sound Studies Caucus at ASA.
You can read Susana's article here:
Post date:
Fri, 09/08/2017 - 11:23am
Post date:
Fri, 08/04/2017 - 1:58pm
Doctorate of Philosophy
Elizabeth Verklan
Master of Arts
Harrison Apple
Mel Ferrara
Félix Vargas
Bachelor of Arts
Aline Jeanette Diaz
Katrina Marie Hermanson
Grace Helen Horrocks
Daniela Bracha Kaplan
David Zachary Lucero
Danielle Brianne Macias
Nicole Rechelle McCraw
Ashley Marie Samuels
Matthew Christopher Smith
Ashley N. Swinford... Read more
Post date:
Tue, 07/25/2017 - 2:37pm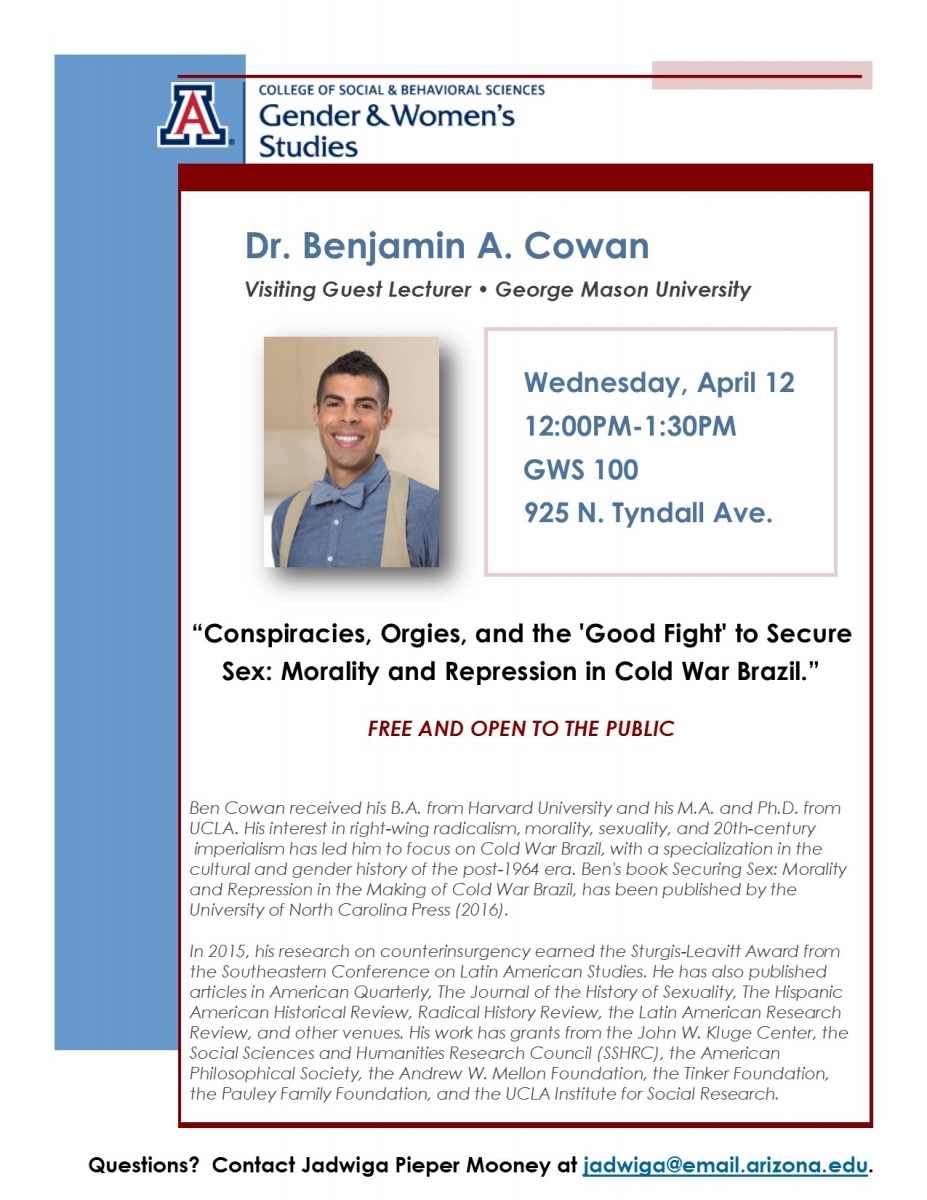 Post date:
Wed, 03/29/2017 - 4:15pm
Kate 's article "Neocolonial Biopolitics in Southern Arizona: Lessons Learned from the SB 1070 Boycott" was published in Feminist Formations Winter 2016.
Post date:
Mon, 02/06/2017 - 11:32am
Florentin Félix Morin is a French student who just started his PhD this year at Université Paris 8. He works at the intersection of Trans Studies and Animal Studies, focusing on tranimal body modifications, practices and subjectivities. He is beyond excited to be in Tucson for the Spring semester, benefit from all the department's and the Institute's activities, conduct fieldwork in the US, and meet everyone! (He uses the name 'Felix' in English.)
 
Post date:
Fri, 01/20/2017 - 1:09pm
Eithne Luibhéid will present "Queer Migrant Storytelling: Challenging Immigrant Detention" at an event centering LGBT Immigrant Stories, organized by the University of Minnesota's Immigration History Research Center, on January 23, 2017. Click HERE for more event details.
Dr. Luibhéid was... Read more
Post date:
Fri, 01/20/2017 - 1:08pm
Abraham Weil was awarded a 2016 NWSA Graduate Scholarship Honorable Mention for cutting-edge feminist scholarship that is comparative, global, intersectional, and interdisciplinary. His dissertation title is "Trans*Versality: Anti-Black Racism, Trans*Politics, and Molecular Revolution."
Liz Verklan successfully defended her dissertation, "Objects of Desire: Feminist Inquiry,... Read more
Post date:
Wed, 12/14/2016 - 10:02am
Post date:
Tue, 07/12/2016 - 11:05am
Pages