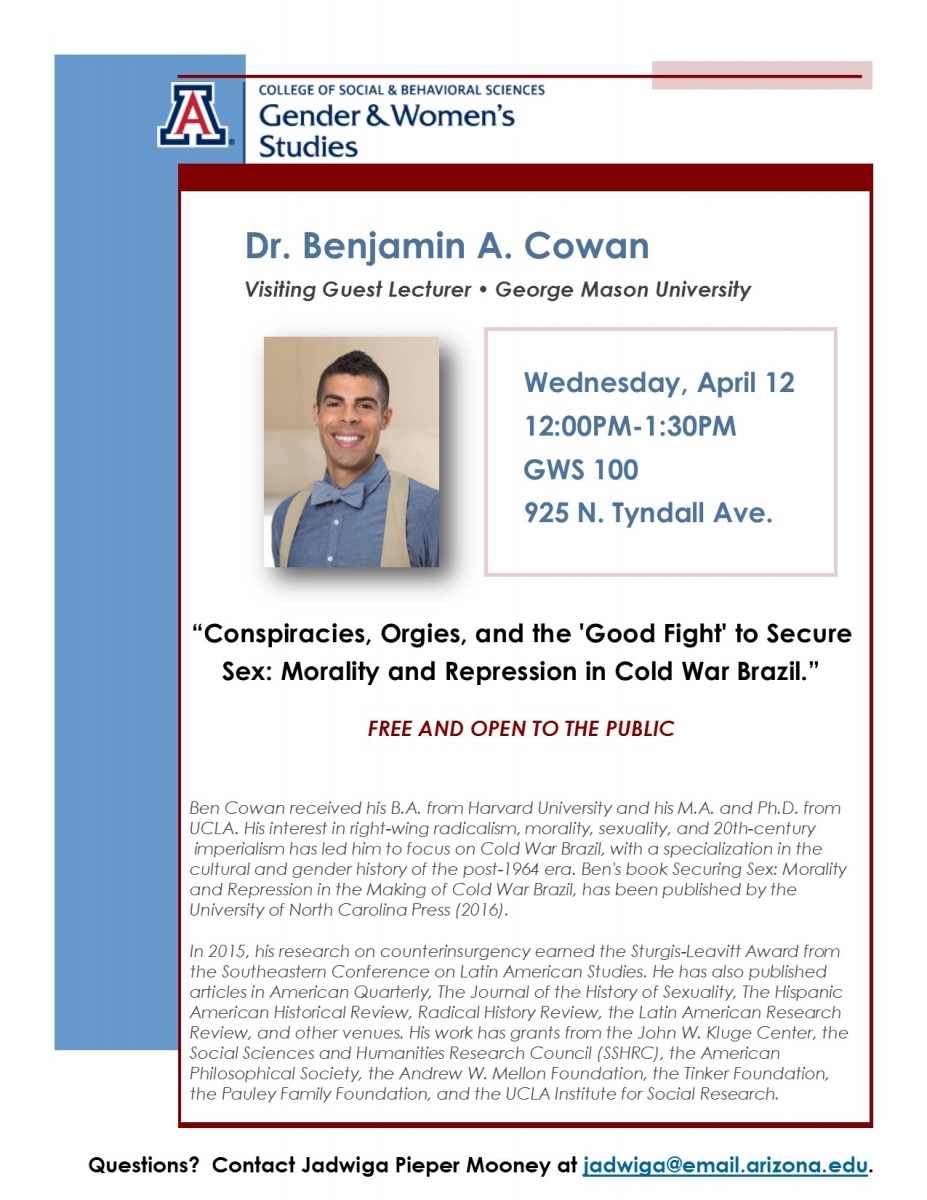 Post date:
Wed, 03/29/2017 - 4:15pm
Kate 's article "Neocolonial Biopolitics in Southern Arizona: Lessons Learned from the SB 1070 Boycott" was published in Feminist Formations Winter 2016.
Post date:
Mon, 02/06/2017 - 11:32am
Florentin Félix Morin is a French student who just started his PhD this year at Université Paris 8. He works at the intersection of Trans Studies and Animal Studies, focusing on tranimal body modifications, practices and subjectivities. He is beyond excited to be in Tucson for the Spring semester, benefit from all the department's and the Institute's activities, conduct fieldwork in the US, and meet everyone! (He uses the name 'Felix' in English.)
 
Post date:
Fri, 01/20/2017 - 1:09pm
Eithne Luibhéid will present "Queer Migrant Storytelling: Challenging Immigrant Detention" at an event centering LGBT Immigrant Stories, organized by the University of Minnesota's Immigration History Research Center, on January 23, 2017. Click HERE for more event details.
Dr. Luibhéid was... Read more
Post date:
Fri, 01/20/2017 - 1:08pm
Abraham Weil was awarded a 2016 NWSA Graduate Scholarship Honorable Mention for cutting-edge feminist scholarship that is comparative, global, intersectional, and interdisciplinary. His dissertation title is "Trans*Versality: Anti-Black Racism, Trans*Politics, and Molecular Revolution."
Liz Verklan successfully defended her dissertation, "Objects of Desire: Feminist Inquiry,... Read more
Post date:
Wed, 12/14/2016 - 10:02am
Post date:
Tue, 07/12/2016 - 11:05am
Kassandra Manriquez will be attending the doctoral program in American Studies at New York University in the fall. Kassandra has also been nominated for the SBS Outstanding Undergraduate Research Award for her research on state policing of homeless solidarities.
David Lucero will be attending the prestigious Institute for the Recruitment of Teachers this July, a graduate school preparation program for first-generation students of color, held each summer at the Phillips... Read more
Post date:
Thu, 04/21/2016 - 8:12am
Brooke Lober has been awarded a Schlesinger dissertation grant for her project on Betty Friedan and Adrienne Rich—part of her larger dissertation entitled "Conflict and Alliance in the Struggle: Feminist Anti-Imperialism, Palestine Solidarity, and the U.S. Jewish Feminist Movement of the Late 20th Century."   Congratulations!
Post date:
Fri, 04/08/2016 - 4:36pm
Mari Galup successfully defended her dissertation, titled "Seeds: Sembrando Futuros", this week. Dr. Galup will officially graduate with her Ph.D. in Gender and Women's Studies next month.  Congratualtions!
Post date:
Fri, 04/08/2016 - 4:35pm
Congratulations!
Zeynep Korkman, GWS Assistant Professor, has received a research grant for six months during the 2016-2017 academic year from the National Endowment for the Humanities/American Research Institute in Turkey for her book-length project "Gendered Fortunes: Feelings, Labors, and Publics of Divination in Postsecular Turkey."
Post date:
Fri, 03/04/2016 - 4:28pm
Pages